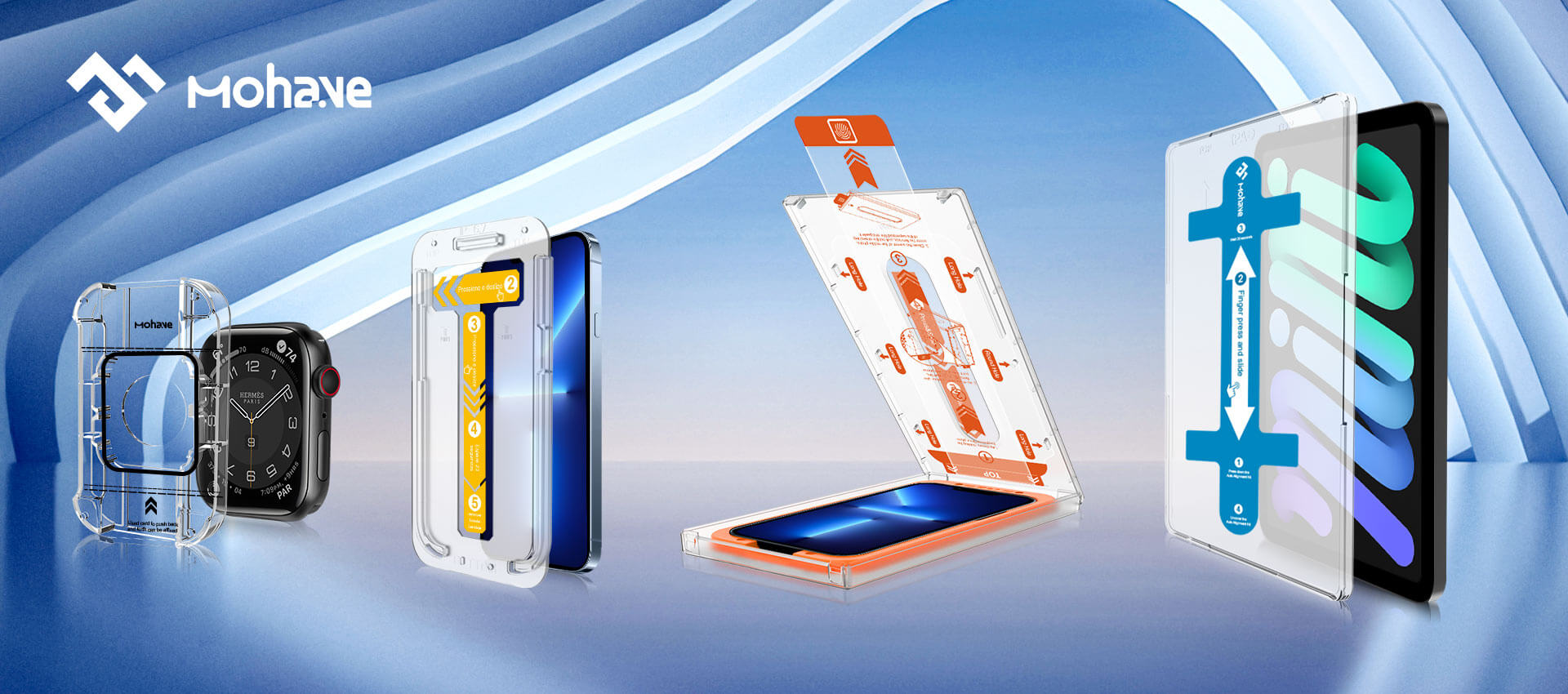 About Mohave
Mohave create industry-leading products focus on expansion and innovation. We are committed to providing the highest quality, easy-to-apply screen protectors for cell phones, tablets, smart watches and lenses to consumers worldwide.
Mohave was founded in 2016 when we realized that you could and should expect more from your tech accessories. We realize that there are many deficiencies in the traditional phone and tablet screen protector, such as air bubbles during installation and not easy to install. So in 2016, we crowdfunded $100,0000 to produce the first EZ Fit Glass Screen Protector. This product has opened up the US, Canada, and UK markets for us, allowing us to have enough funds to build a larger production plant and a more advanced research center.
We make products for risk-takers, thrill seekers, tech-lovers and city-dwellers. We create solutions to the problems that come from busy lives and outlandish adventures, so that you can expect more from the devices you use every day. It doesn't matter if you're off-road biking or cycling with your family, navigating hiking trails or navigating the urban jungle, no two customers have the same needs from their tech. We think that your tech accessories should facilitate your lifestyle, no matter what your lifestyle might be. Living without limits isn't just a tagline, it's a belief, and we truly believe we can remove the limits of modern technology, enabling you to live without restriction or limitation. It can protect the screens of mobile phones, watches and other electronic devices from damage during extreme sports.
What is our goal
We make relentlessly high quality products which have been over-engineered to solve real problems you face. Each product is designed to enhance your lifestyle by achieving three things.
Functionality
Limitless functionality means that all our products have multiple uses, solve all sorts of problems and create an expansive range of possibilities. Whether EZ Fit Glass or iwatch proteactor, our products tangibly improve your life with their versatility.
Performance
All our products centre extreme performance at the core of their design. Whether they feature high-impact material for ultimate protection or intricately designed electronics for fast charging, our approach to over-engineering ensures that they'll always perform as promised.
Style
We know that style is as important as substance, and we firmly believe that you should have both. We aim to capture considered, timeless aesthetics that allow you to express your individuality with products that are just as unique as you are.
Why we do it
We believe in the transformative power of technology. We've seen first-hand the impact that tech has on our lives, and we believe that you can and should expect more from the devices you use every day.
Our mission is to enable extreme lifestyles, and every experience is an extreme experience if it matters to you. Whether your idea of adventure is summiting Machu Picchu or making it across the city in time for a 9am meeting, you should have the option of versatile accessories that empower you and your goals.
This is what it is to live without limits.
Mohave: https://www.imohave.co
Email: info@imohave.co