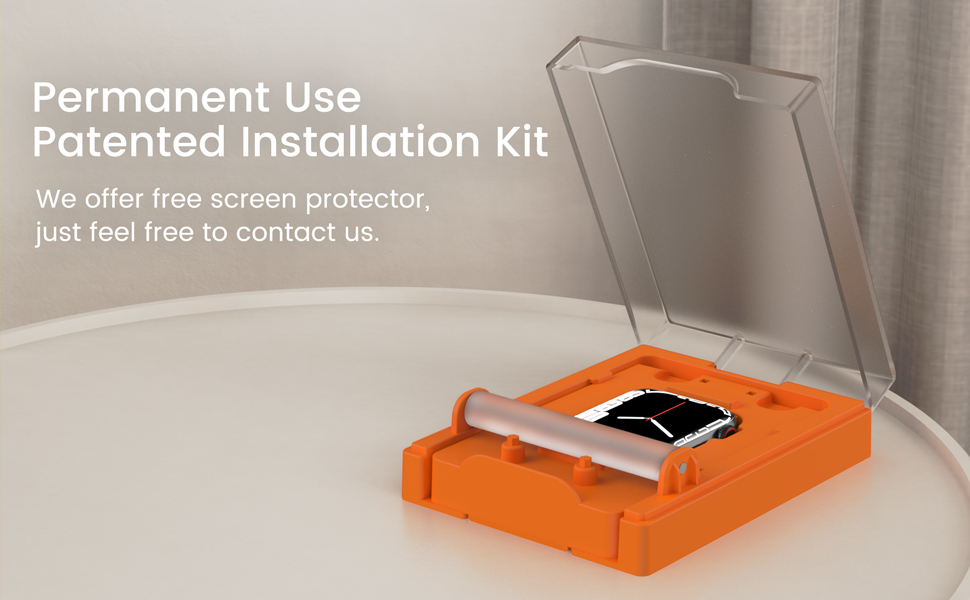 Product Information
Easy to install the screen protector
There are 4 positioning points on the Apple Watch Screen Protector Installation Box, which can accurately attach the iWatch screen protector to the Apple Watch Series without deviation. In the process, push the drawer box to install the screen protector and don't need to spend time aligning. Moreover, the installation tool is reusable, the next purchase only needs a protective film, and the box material is recyclable and pollution-free.
Nano-hybrid glass screen protector
Apple Watch Screen Protector uses 6H nano-hybrid glass to prevent Apple Watch from being scratched and impacted by keys and other sharp objects. On the other hand, a 99.9% light transmittance screen protector ensures the original clarity of the screen, and will not affect the sensitivity of the Apple Watch 45/44/41/40mm screen touch and the use of physical buttons.
Shatterproof Screen Protector
The Apple Watch Series Screen Protector will work when scratched or hit by sharp objects. The protector takes the hit, not the device. Over time, though, chips, cracks, shatters, and pop-offs can be a nuisance. This Apple Watch Screen Protector will protect your watch from this problem.
What's in the box?
| | |
| --- | --- |
| Name | Quality |
| Easy-install Box | 1 |
| Screen protector | 2 |
| Cleaning Kits | 2 |