13 Pro Max Glass Screen Protector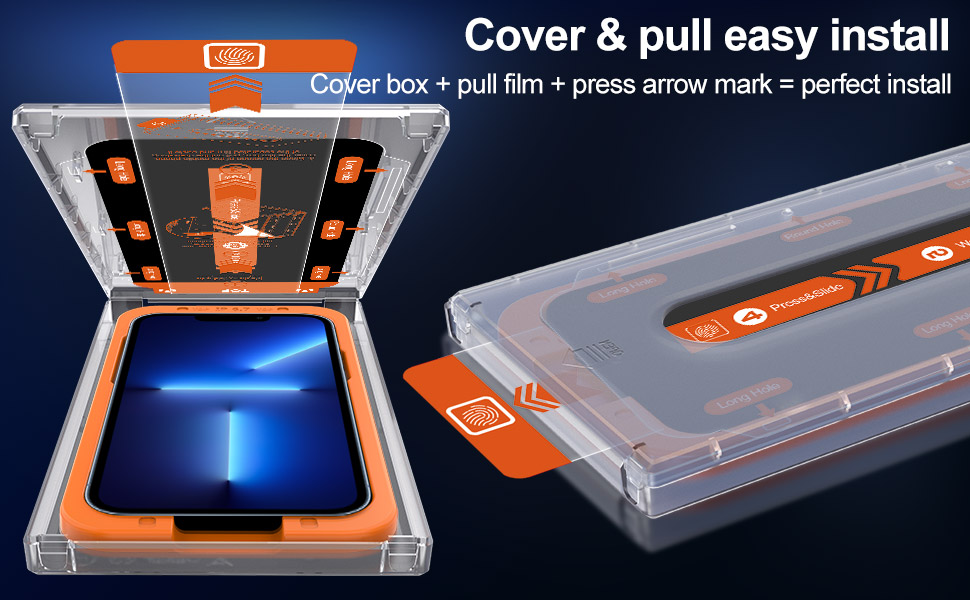 Product Information
Design for iPhone 13 Pro Max
The auto-alignment screen protector box is specially designed for Apple 13 Pro Max 6.7 inch. With 7 positioning holes on top protective film, the screen protector precisely fit the phone screen. The installation box is made of degradable food-grade environmentally friendly materials, which can be reused thousands of times.
10X protect than before
This premium screen protector with 9H hardness tempered glass provides a 10-time protection than normal tempered glass, its NANO coating can absorb shock, at the same time provide a smooth durable oleophobic anti-finger print coating.
Dust & air bubbles free
Sealed auto-alignment screen protector box for iPhone 13 Pro Max can avoid dust and air bubbles to a fair degree. If any small air bubbles, you can use a card to push bubble free before removing the last layer of protective film.
Flawless Touchscreen Experience
Precision touch sensitivity through nanohybrid 9H glass composition that reacts like your phone's own screen. Incredibly slim at just 0.3 mm to make sure it is originally touching sensitive, you hardly notice the ultra-tough layer of protection. The screen protector with electroplated oleophobic anti-finger print coating can ensure a very smooth swipe without fingerprints.
Electrostatic dust removal
Static electricity is generated on the plastic film when the orange release film is pulled out. Because of static electricity has the property of attracting light and small objects. The dust on the screen will be adsorbed to the release film and taken out together. In addition, the box is sealed, which also isolates the dust, which is truly a dust-free film.
Easy Application
The Auto-alignment screen protector box makes it very easy and quick to install the iPhone 13 Pro Max screen protector without any bubbles and dust.
Screen protector mounter can automatically align the position of the tempered film without any deviation.
If there is a small amount of bubbles, this is a normal phenomenon, you can use a scraper to gently push out the bubbles.
Shipping time 5-15 days.
Free shipping for over 39$
Delivered in 24 hours, except weekends.
About warranty
90 days free warranty on auto-aglinment screen protector box, excluding return shipping.
14-Day Money-Back Guarantee The screen protector must be new and unused to issue a refund.
What's in the Box
| | |
| --- | --- |
| Name | Qty |
| Clear/privacy glass | 2 |
| Cleaning kits | 2 |
| Easy-install magicbox | 1 |
| Bubble scraper | 1 |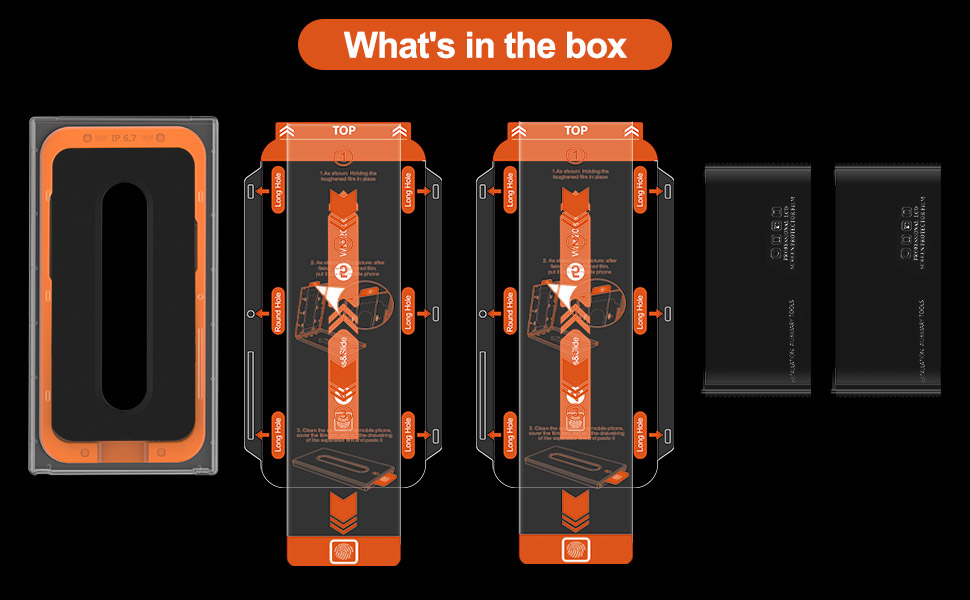 Installation Method
Align holes of protector film on box.
Put mobile phone into the mounter.
Close box then pull the film
Press arrow mark and slide it.