IPhone 13 Pro Max Glass Screen Protector
Product Features
Bubble & dust free installation
Auto-alignment screen protector in a patented box, it can avoid bubbles and dust to a fair degree. If any bubbles, you can use a card to push. Our Installation box can prevent screen protector touching dusts from air. Installing iPhone 13 Pro Max screen protector becomes easy and quick.
10X stronger screen protector
The glass screen protector with 9H tempered glass provides a 10-time protection than normal tempered glass, its NANO coating can absorb shock at the same time provide a smooth durable oleophobic anti-finger print coating. This screen protector combines a 0.33mm glass with 0.15mm AB glue to make sure it is originally touching sensitive.
Electrostatic dust removal
At the moment when the protective film is pulled out, static electricity is generated on the plastic film. Static electricity has the property of attracting light and small objects. When the film is pulled out, the dust on the screen will also be adsorbed to the protective film and taken out together. In addition, the box is sealed, which also isolates the dust, which is truly a dust-free film.
Reusable easy-install magicbox
The mounter box can still be used normally, and the box can be reused about 1000 times. It is environmentally friendly, easy to degrade and can be reused without causing environmental pollution.
Easy Application
The included Technical Applicator Mounter makes it very easy anf quick to install screen protector without any bubbles and bumps.
Screen protector mounter can automatically align the position of the tempered film without any deviation.
What's in the package?
| | |
| --- | --- |
| Name | Qty |
| Easy-install magicbox | 1 |
| Glass screen protector | 2/4 |
| Cleaning kits | 2/4 |
| Scrapper | 1 |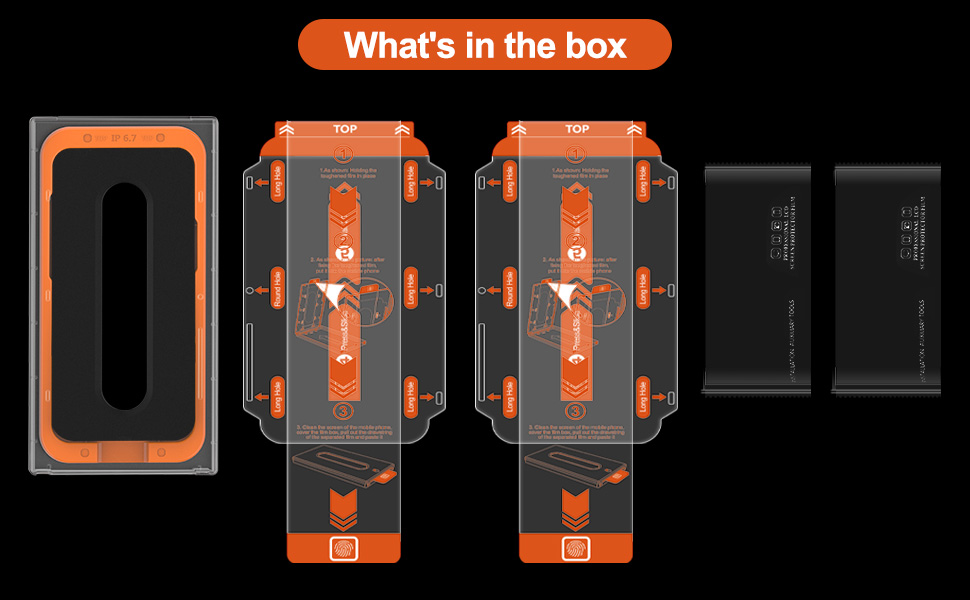 Installation Method
Align holes of protector film on mounter.
Put mobile phone into the mounter.
Close box then pull the film
Press arrow mark and slide it.