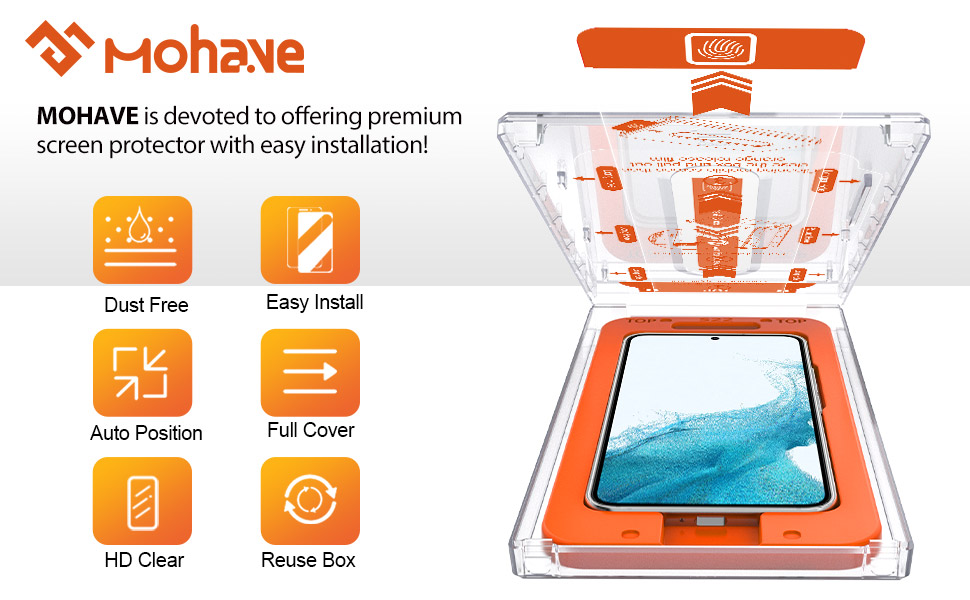 Product Information
Ultra-thin Glass Screen Protector
Ultra-thin glass screen protector for Samsung S22/S22+ uses 0.15mm glass, and the presence of the Glass Screen Protector is hardly felt. More importantly, the 9H tempered glass can effectively prevent the screen from shattering and resist any scratches from sharp objects.
Bubble & dust-free install
At the moment when the protective film is pulled out, static electricity is generated on the plastic film, and the dust on the screen will also be adsorbed to the protective film and taken out together. On the other hand, the smooth installation scheme is almost free of air bubbles.
Reusable Installation Box
The auto-alignment installation box for Samsung S22/S22+ can be reused, you just need to repurchase the Ultra-thin tempered glass. And it makes tempered film installation easy and fun, please keep your box for next time.
Compatible with the FingerPrint
Due to the ultra-thin design, the EZ glass screen protector won't affect the Samsung FingerPrint Ultra-sonic Scanner's work.
What's in the Package
| | |
| --- | --- |
| Name | Qty |
| Mounting box | 1 |
| HD screen protectors | 2 |
| Cleaning kits | 2 |
| Scrapper | 1 |
Samsung S22/S22+ protector instructions